Ambassador Cuisia Meets with Peregrine Senior Executives
Wednesday / August 24, 2011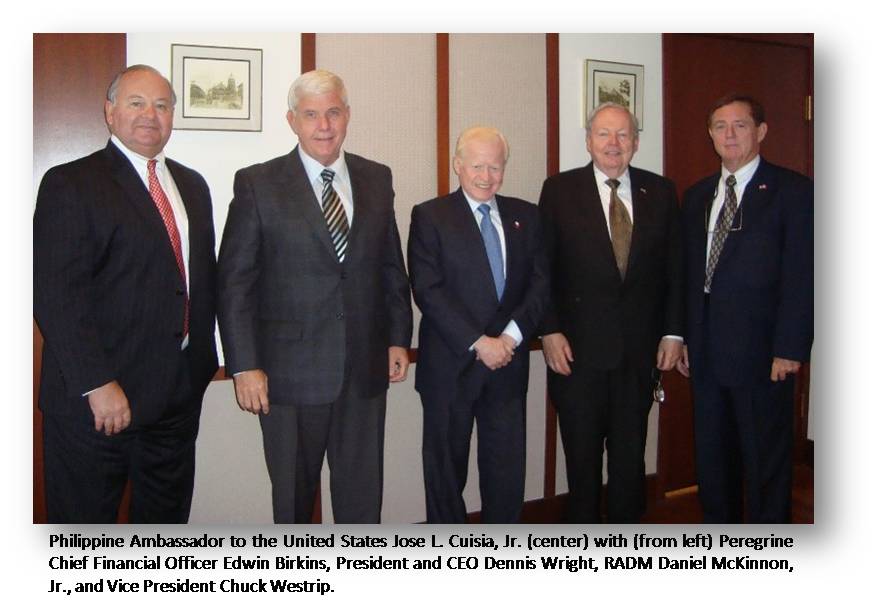 27 August 2011- The Philippine Embassy in Washington D.C. reported that Philippine Ambassador to the United States Jose L. Cuisia, Jr. met last August 24 with senior executives of Peregrine led by its President and CEO, Mr. Dennis Wright, who discussed the company's investments in the Philippines on behalf of KGL, a prominent Kuwait investment group.
Ambassador Cuisia conveyed the Philippine Government's appreciation for Peregrine's vision to help transform the Philippines as the premier logistics hub in the region. Mr. Wright, in turn, confirmed that "there is more good news about the Philippines."
Peregrine, a U.S. knowledge management company specializing in project development, is the exclusive developer and prime contractor of the Global Gateway Logistics City (GGLC), a $2 billion dollar project conceptualized by Peregrine that is being developed on behalf of the KGL Investment Company.
The GGLC is a modern, state-of-the-art, 177-hectare, aviation-oriented logistics hub and mixed-use commercial business park. Located at the Clark Freeport Zone in Central Luzon, Pampanga, the project is directly supported by the Philippines' largest international airport, a new and modern major deep water container port, two major expressways, and a planned railroad.
Peregrine also serves as co-chair of the Philippine-US Business Committee of the US-ASEAN Business Council.