PHOENIX RISING: P150-b Clark city
Sunday / July 8, 2012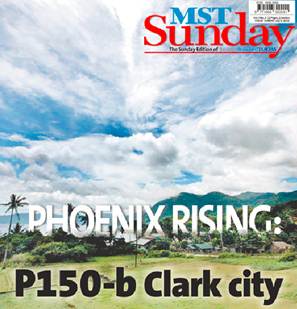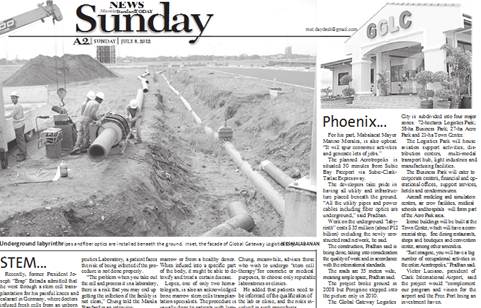 Like the mythical phoenix rising from its ashes, a vast expanse of land rendered barren by Mt. Pinatubo's volcanic ash and lahar flows is slowly but steadily coming to life.
Situated right in the heart of the Clark Free Port in Pampanga, a P150-billion state-of-the art industrial-residential complex project is going full blast.
The project, called Sabah Al-Ahmad Global Gateway Logistics City, is envisioned to become a transport-logistics hub, aero park, medical center and an investors' haven, among other business activities.
"I see the entire areas fully developed in the next 10 years," said Jeff Pradhan, director for business development at Peregrine Development Int'l, the American partner of Sabah Al-Ahmad.
Named after a Kuwaiti emir, the Sabah Al-Ahmad Global Gateway is a 15-minute drive from the Free Port's main gate. It is parallel to the Clark International Airport, which makes the place a perfect blend of prime real estate and facilities for all the business needs.
Pampanga Gov. Lilia Pineda says of the project: "It is an honor for Pampanga and Central Luzon as well to have this kind of project and a huge one at that."
For his part, Mabalacat Mayor Marino Morales, is also upbeat. "It will spur economic activities and generate lots of jobs."
The planned Aerotropolis is situated 30 minutes from Subic Bay Freeport via Subic-Clark-Tarlac Expressway.
The developers take pride in having all utility and infrastructure placed beneath the ground. "All the utility pipes and power cables including fiber optics are underground," said Pradhan.
Work on the underground "labyrinth" costs $35 million (about P12 billion) excluding the newly constructed road network, he said.
The construction, Pradhan said is being done, taking into consideration the quality of work and in accordance with the international standards.
The roads are 35 meters wide, meaning ample space, Pradhan said.
The project broke ground in 2008 but Peregrine stepped into the picture only in 2010.
The Global Gateway Logistics City is subdivided into four major zones: 72-hectares Logistics Park; 58-ha Business Park; 27-ha Aero Park and 21-ha Town Center.
The Logistics Park will house aviation support activities, distribution centers, multi-modal transport hub, light industries and manufacturing facilities.
The Business Park will cater to corporate centers, financial and operational offices, support services, hotels and condominiums.
Aircraft modeling and simulation centers, air crew facilities, medical schools and hospitals will form part of the Aero Park area.
Iconic buildings will be built at the Town Center, which will have a commercial strip, fine dining restaurants, shops and boutiques and convention center, among other amenities.
"Just imagine, you will have a big number of occupational activities in the entire Aerotropolis," Pradhan said.
Victor Luciano, president of Clark International Airport, said the project would "complement our program and vision for the airport and the Free Port being an investment haven.